Hall Of Fame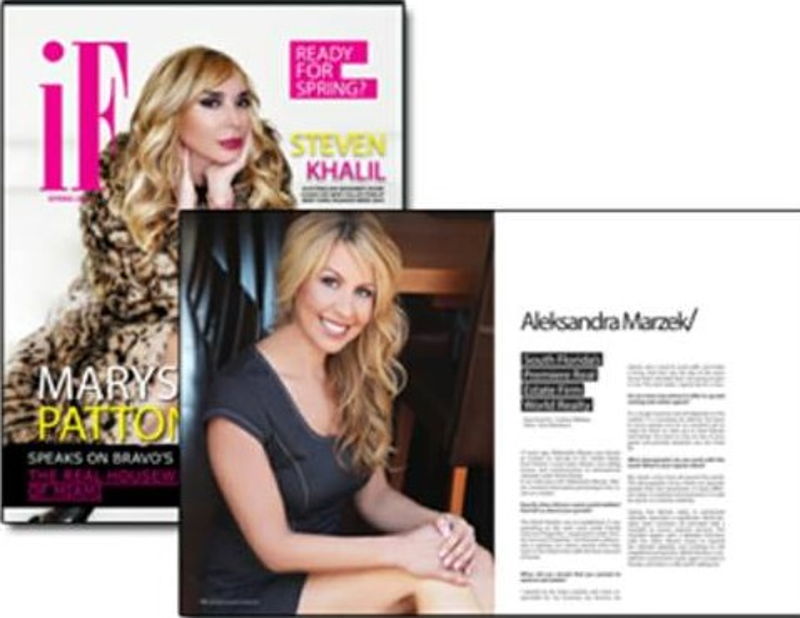 ---

On the glimmering shores of Miami-Dade County, Aleksandra Marzec is taking the real estate world by storm. She touched American soil in 1995 and, by the turn of the millennium, had dabbled in public relations, marketing, and sales. However, her innate leadership spirit felt stifled by the confines of a regular nine-to-five job. It was the swift sale of her first home in 2000, where she experienced the exhilarating potential of the real estate world, that truly beckoned her into the field. Today, as a proud broker-owner of TheWorld Realty, Aleksandra stands at the helm of a multi-lingual team specializing in high-end luxury properties, with a clientele stretching from the beaches of Palm Beach to the energetic streets of Miami-Dade County.
With a hefty 30% repeat business rate, her team's expertise is trusted by both individual clients and prominent real estate portfolio companies alike. Aleksandra's approach to real estate is holistic. When listing a property, she ensures it's not just another number in the catalog. The property is professionally presented, with guidance on prepping it for showings. Buyers benefit from an expanded portfolio, including access to off-market listings. Moreover, her team offers an integrated suite of services – from title and mortgage setup to insurance – ensuring a seamless experience. With a keen understanding that every market is unique, Aleksandra educates her clients about the nuances of Miami's real estate, empowering them to make well-informed decisions. And, even after the ink dries, her post-purchase support, complete with a home management system, continues to guide homeowners through their new journey. She also stands out with her vast expertise and creative marketing.
Through The World Realty, Aleksandra can advertise on 800+ relevant websites across 20+ countries on three continents. This expansive reach is a testament to her belief in a truly global marketing strategy. Founded in 2004, The World Realty has firmly rooted itself in Florida's high-end residential property landscape. Aleksandra's affiliations, including the International Real Estate Federation and the Miami Board of Realtors, further amplify the credibility and international scope she brings to every transaction. Through a blend of experience, connections, and cutting-edge marketing techniques, Aleksandra ensures every property receives the attention and value it deserves. Aleksandra's community involvement seamlessly blends with her passion for real estate. Her love for animals is evident as she channels her resources into animal protection organizations.
While she often donates funds, her giving doesn't stop at monetary contributions. A mentor at heart, she offers unique opportunities for budding real estate enthusiasts, especially international students from the University of Miami. Whether pairing them with herself or another seasoned agent, she ensures they gain invaluable insights into the world of real estate during their brief shadowing stints. Looking ahead, Aleksandra plans to continue growing and welcoming hardworking agents to her team. With a track record of over 18 years, The World Realty is dedicated to offering tailor-made real estate solutions and making property purchases both convenient and thrilling."We take pride in offering ethical, efficient, hassle-free services to our clients, and we always deliver results."For more information about Aleksandra Mar
AWARDS
2023 Best of Florida Awards. Aleksandra Marzec finished in these categories: Best of Florida Honorable Mention winner in the Real Estate Teams & Agents category
Top 3 Best Miami Brokers 2023-2023-2021
Excellence in Client Service 2020-2021-2022-2023
Aleksandra Marzec is a Reputable Agent! Fewer than 8% of real estate agents are Reputable Agents.
Aleksandra, you're now a Top 20% Agent
Congratulations on your outstanding performance! You've earned the UpNest's Agent badge!
Article
MagazinesShoutout Miami "Meet Aleksandra Marzec I Real estate Broker
https://shoutoutmiami.com/meet-aleksandra-marzec-real-estate-broker/
https://www.youtube.com/watch?v=mMtNy3sJ-78
My Podcast